ADA, WCAG 2.1 & Section 508 Compliance
AI-Powered Web Accessibility.
Automatic. Simple. Affordable.
Starts at $490 annually with 7-day trial - no credit card required

Takes up to 48 hours from initial installation to compliance

Accessibility statement and certification of performance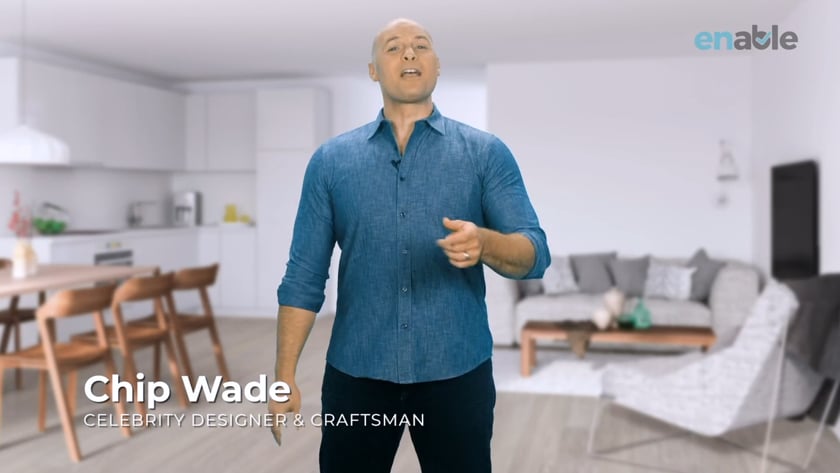 Enable is fully customizable and can easily adapt to your website's design.
Tired of accessibility solutions that not only cost a fortune but also negatively impact your website's design? Enable Web Accessibility is fully and easily customizable. In less than a minute, you can completely adapt our interface to your templates. Choose colors, sizes, icons, positioning, and much more!
HOW IT WORKS
A Technological Breakthrough
Contextual Understanding Technology
Our AI scans websites and understands their element structures, button functionalities, and object hierarchies, thus determining their level of significance based on the context in order to make the site accessible.
Image Recognition Technology
Enable Web Accessibility automatically scans all the images and background images process them using an AI image recognition technology and provides them with alternative texts (ALT tags).
Machine Learning Technology
Enable Web Accessibility processes each website it's installed on and learns from it in order to improve continuously. The more sites it is installed on, the more accurate it becomes.
Giant Tech Collaborations
We collaborate with the biggest and brightest companies in the world, such as Google and Clarifai, to ensure that our systems are always at the pinnacle of today's technology.
Quick and easy
installation!
Built-in plugins and integrations
with content management systems
Installing Enable Web Accessibility is extremely quick and simple. All you need to do is implement a single line of JavaScript code into your website. It's as simple as installing Google Analytics or Facebook Pixel! Additionally, you can even implement it using Google Tag Manager or our built-in CMS plugins!
ADA, WCAG 2.1 & Section 508 Compliance for every industry
The Forefront of Web Accessibility Technology
Enable Web Accessibility is the first and only fully automated web accessibility technology that complies with the WCAG 2.1 and keeps your website accessible at all times.
Got questions?
We've got answers!
Enable Web Accessibility's technology benefits individuals with disabilities ranging from visual to physical. The system was developed in close cooperation with individuals with disabilities. This allowed us to experience firsthand how different individuals use the internet and how we can help and support them. Based on this information, we developed the system's features.
Enable Web Accessibility knows how to make websites fully accessible for individuals with the following and more:
Full or partial blindness
Motor disabilities including Parkinson's
Epilepsy
Cognitive disabilities including dyslexia
Visual impairments including color blindness and glaucoma
For each disability, Enable Web Accessibility offers a different set of tools that will empower users to have a full and enriching web experience. 
Want to add a new site or sites to your account and get a 7-day trial for each of them? You're in the right place!
In order to do so, follow these steps:
Click on 7-Day Risk-Free Trial 
Enter your details and your website's domain name
After form completion, you will be given a code for your site
Upon the completion of your 7-day trial, you will be contacted to provide payment information if you wish to continue with the service
The Enable Web Accessibility platform was developed to be a real, effective, and stable solution for people with disabilities, as well as a full solution for business owners to comply with accessibility legislation. For this purpose, we have invested over 13 months of research and development in close cooperation with people with disabilities from the "Palace" Protected Accommodation Center. We developed a smart accessibility system that uses two artificial intelligence technologies to "learn" sites as it performs various operations and modifications, allowing individuals with disabilities to customize the user experience however it suits them. 
Simply put, we worked day and night for months to create a one-of-a-kind system—one that allows anyone use the internet. And that's amazing!
The technology in the Enable Web Accessibility platform combines pre-existing technology that we've adapted with technology that we developed from scratch. Our technology is a machine-learning artificial intelligence, which we call "Contextual Understanding." It learns and understands the environment in which it is installed. It understands the hierarchical elements of a website, including links, titles, images, and forms, and it knows how to rearrange or adapt them to accessibility regulations and WCAG 2.0 guidelines, brought by W3 (World Wide Web Consortium). Thus, the system manages to be a completely automatic solution, which works like magic. As a result of our huge technological breakthroughs, we commit to making your sites accessible as defined by accessibility legislation.
The system allows users to personally customize navigation and orientation (screen reading software, image descriptions, forms, keyboard navigation, virtual typing, and more), text display (titles, paragraphs, links, and more) and the display itself (size, color, contrast, animations, and more). Additionally, the system runs in eight different languages: English, French, Spanish, German, Hebrew, Arabic, Russian, and Italian. The system does all of this without affecting a site's design or functionality. 
In the web accessibility market, there are three different types of solutions. Below, you will find a detailed explanation of various accessibility options, as well as a simple visual comparison table that will help you easily see the difference between each possible solution.
 
Enable's
AI Solution
Accessibility
Services
Accessibility
Plugins
Compliance
WCAG 2.1, ADA, Section 508, AODA, EN 301549 and IS 5568
Depends on project's scope
Does not comply with legislation
Pricing
Price start at $490 / year
$5,000 - $50,000 / year
Free to low monthly subscriptions
Turnaround
Up to 48 hours from installation
Projects range from 3-26 weeks
Depends on your CMS
Success Rate
Automatic 96% success rate
Drops to 50% within 6 months
5% - 20% of the requirements
Maintenance
Re-process every 24 hours
No maintenance by default
No maintenance

Plugins and add-ons

Solutions of this kind are usually free or very low cost. They only provide approximately 20 percent compatibility, per accessibility standards. These solutions do not meet the standard, nor do they help individuals use your website, and they can leave you vulnerable to lawsuits. 

Manual accessibility services

Manual accessibility services can make your site accessible and up to standard. The problem is that, without regular updates, most of your site will revert to being completely unaccessible in mere months. Simply put, making many alterations to a website "breaks" most manual accessibility updates. To constantly update your website's accessibility manually is both frustrating and expensive. 
Enable Web Accessibility
Enable Web Accessibility is the first and only system in the world that knows how to make websites accessible to the AA level, in accordance with the accessibility legislation and with WCAG 2.0 standards. It does so using two forms of machine-learning intelligences. The first artificial intelligence is called contextual understanding. It scans and decodes a website, learning all about its structure and elements, then makes those accessible based on the results on its scan. The second artificial intelligence is the result of a collaboration with Google and Clarifai. It scans and decodes images and their elements, providing accurate descriptions of each. These descriptions can then be read with screen reading software. 
Enable Web Accessibility is an entirely automated solution, scanning periodically and updating regularly. It also learns as it goes. As you can see, Enable has key advantages over any other solution available today. It meets the accessibility legislation and WCAG 2.0 standard at the AA level, it's fully customizable, and it makes your website accessible to everyone!
Enable Web Accessibility does not interfere at all with the site's source code. Enable Web Accessibility reviews client-side code (code that runs in a browser) as soon as the site loads. It then modifies this code according to user requirements. It does not change, delete, save, or update within your site's permanent source code. Additionally, Enable Web Accessibility does not affect a site's performance or loading times. In fact, the technology only loads once the entire site itself has fully loaded.